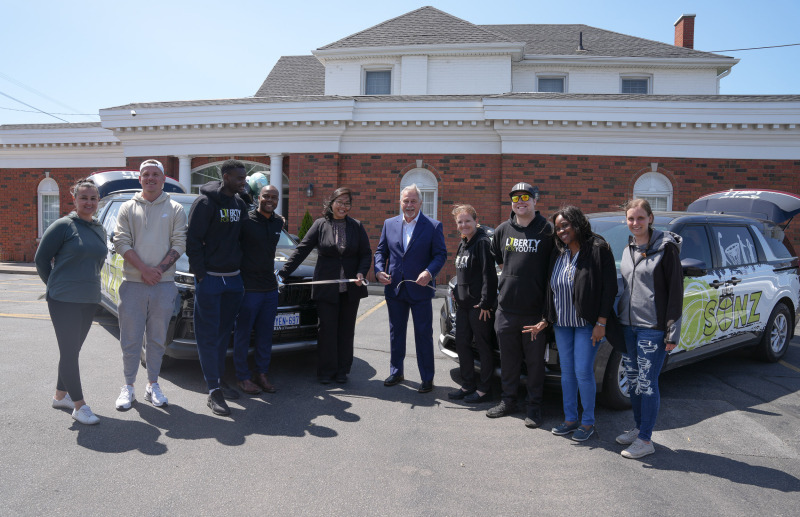 Local MPP Neil Lumsden and Ward 4 Councillor, Tammy Hwang met with us to learn more about the $108,900 Capital grant they received from the Ontario Trillium Foundation (OTF) which was used to purchase two new program vehicles to transport at-risk youth to and from mentorship programming. "The funding to Liberty for Youth will help break down barriers of access for young people in Hamilton," said Neil Lumsden, MPP for Hamilton East-Stoney Creek. "This investment will ensure at-risk youth get the mentorship they need to help achieve their full potential both at school and within our community."
Weserve at-risk youth struggling in school or social development. To avoid placing any burden on the family, we also provide transportation to free mentoring activities like tutoring, outdoor activities for mental wellness, basketball and physical fitness activities, employment skill-building opportunities, and job interviews. Providing transportation has been the strongest niche for us since its inception in 2003. By eliminatingbarriers youth face in finding support for educational, employment and mental wellness needs, it is possible to change the trajectory of their future and in the long-term build a socially and economically thriving community.
Thanks to the funds from Ontario Trillium Foundation, we have been able to address crucial accessibility needs of youth, by filling the gap faced in transportation to and from programs, through the purchase of two 2022 Kia Caravan vans. "Through the Trillium Foundation grant, we were able to purchase two vans to provide better and more efficient programming for at-risk youth by removing barriers to attend mentorship programs," said Frederick Dryden, Founder & Executive Director of Liberty For Youth.
The Ontario Trillium Foundation (OTF), an agency of the Government of Ontario, and one of Canada's leading granting foundations, celebrates 40 years of grant-making in Ontario and making a lasting impact in communities. Last year, OTF invested over $110M into 1,022 community projects and partnerships, which included funding for the Government of Ontario's Community Building Fund. Visit otf.ca to learn more.