Running For Their Lives by Frederick Dryden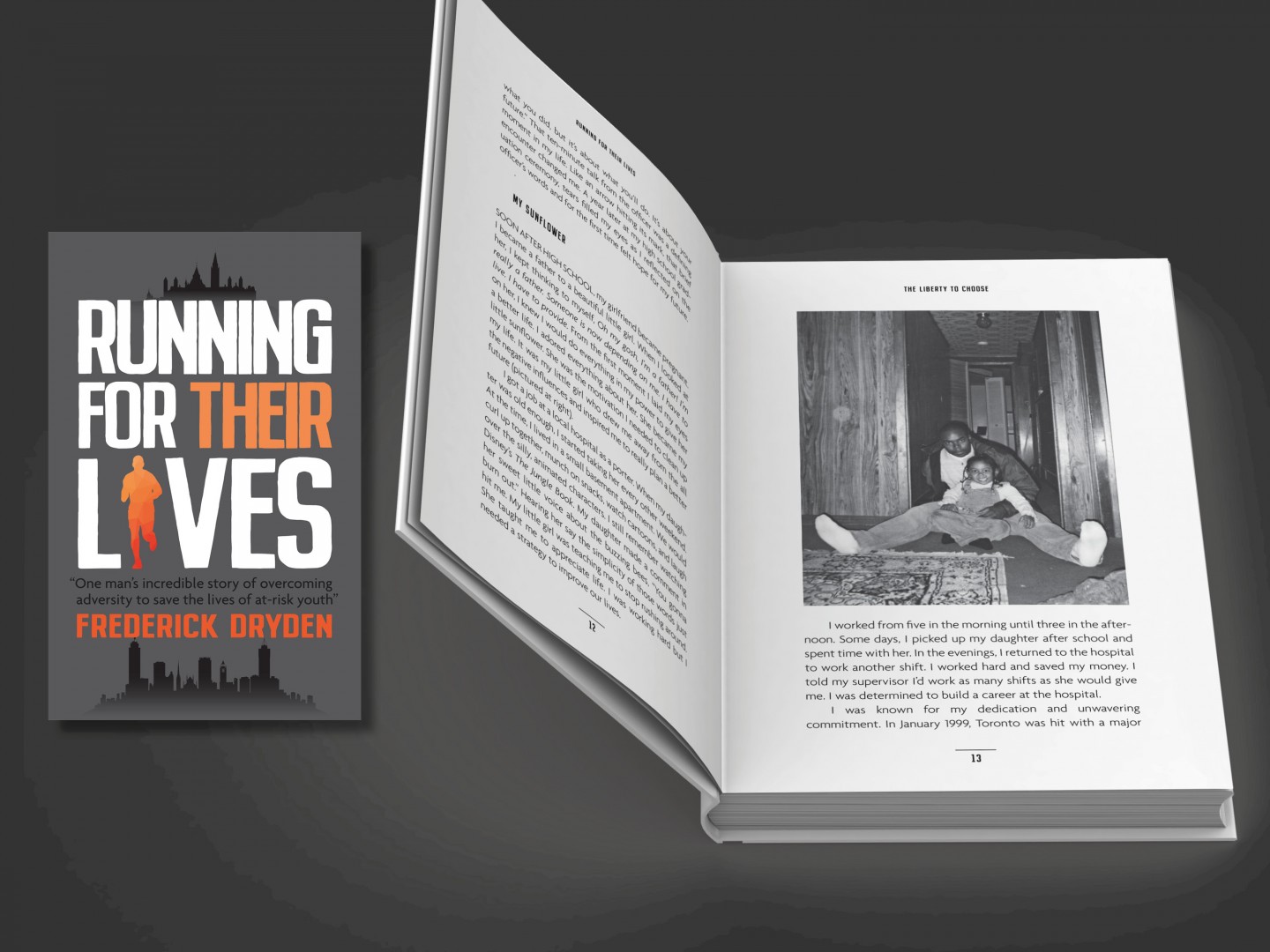 We are excited to introduce our Founder and Executive Director's first book, Running For Their Lives. In 2016, Frederick Dryden completed a 3-week marathon from Ottawa to Hamilton, ON. He ran over 700 kilometres to create awareness for youth issues in Canada and raise funding for program sustainability. Running For Their Lives captures his at-risk teen years, how it led to the founding of Liberty For Youth and how running for youth changed everything.
"Although the book highlights my run, it's much more than that; it's a call to action to help at-risk youth "
-Frederick Dryden
Running For Their Lives was released November 7th, 2018 at our annual Power of a Changed Life Fundraising Gala. You can purchase Running For Their Lives from Liberty For Youth at a book signing, the office, or upcoming speaking engagement below. It is also available on Amazon here.
---
Speaking Schedule:
January 7, 2019

7:00 pm

Chedoke Church

Hamilton

January 14, 2019

6:30 pm

Corpus Christi Elementary School

Hamilton

January 18, 2019

7:00 am

Brighton Rotary Club

Brighton

January 18, 2019

10:00 am

Durham Christian High School

Durham

January 25, 2019

6:00 pm

Peoples Church Youth

Hamilton

January 31,

2019

1:00 pm

Oakville Rotary Club

Oakville

February

3, 2019

10:00 am

Cayuga Christian Fellowship

Cayuga

February 12, 2019

10-11:00 am

Hillcrest School

Hamilton

March 27, 2019

Faith Lutheran Church

Burlington

March 30, 2019

12-1 pm

Campaign Celebration and Book Signing at Liberty For Youth

Hamilton

April 5, 2019

9:30-2:50 pm

Syl Apps Youth Centre

Oakville

April 7, 2019

10-12:00 pm

Fifty United Church

Winona

April 18, 2019

9:45-11:00 am

Notre Dame Secondary School

Burlington

April 27-28, 2019

Rotary Adventure in Citizenship Youth

Conference

Ottawa

May 8, 2019

12-1:00 pm

Isherwood Geostructural Engineers

Oakville

May 23, 2019

6-8:00 pm

Freedom House's Men's Steak BQQ Event at The Small Family Farm

Brantford

June 2, 2019

9:30-11:00 am

Chedoke Church

Hamilton

June 16, 2019

10:00 am

Father's Day Event at Bethel Gospel Tabernacle

Hamilton

June 19, 2019

3-8:00pm

Isherwood Charity BQQ

Mississauga

September 9, 2019

10:00 am

Appleby Probus Club

Burlington

October 24, 2019

6:00 pm

Halton CAS Futures Night

November 14th

7:00pm

St. Matthew's Catholic Elementary School

Binbrook

November 15th

3:00pm

Scotia Bank Head Office

Toronto

November 19th

1:00pm

Promise Keepers Podcast with Kirk Giles

Online

November 22

7:15am

Rotary of Stoney Creek

Stoney Creek

December 9th

Sir William Osler School

Dundas